FAQ
Q1: What is the difference and size of MineAlesi figurines?
A: MineAlesi's figurines having 2 difference major types which high on standing post from 12~17cm tall.
Q Toy proportion of head with body is 1:2 giving cute and cool design (Code start with "Q" = 12cm+-)
Q Classic Toy proportion of head with body 1:2.5 (Code start with "Q then behind with C" = 17cm+-)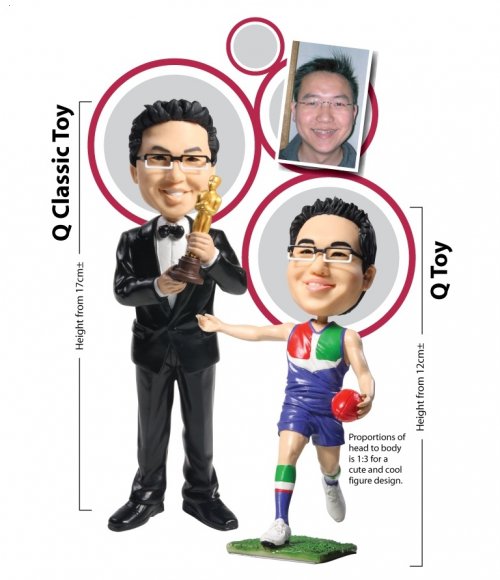 1in = 2.54cm @ 1cm = 0.39in
Q2:
What material are MineAlesi's figurines made of?
A: All MineAlesi's figurines are made of high grade polyester resin for head and polymer Clay for body, MineAlesi's figurines are made for long lasting. (not soft clay or flour)




Q3:

How long does it take to get a MineAlesi figurine done?
A

:

Normal Order

; lead

time is approx. 14~21 working days with appropriate photos submitted and payment.
B: Express order; lead time is less or 14 working days, additional charges apply.
C: Super Express Order; lead time is less or 7 working days!
(For Online order, working days will be start counting after payment had been clear, please feel free to contact us on the arrangement if you need any Express or Super Express Service to avoid delay or miscounting of delivery date, contact detail here)

Q4: I can't find my location or country in shipping location, how can I proceed to buy MineAlesi?
A: Please let us know where is your country or shipping location, we will find out how much is the frieght charges for you. You can find our contact detail here.
Q5: How is the packaging condition for the shipment of MineAlesi's figurine?
A: MineAlesi's is packing with 3 layers high grade sponge or polyform with hard cover box, it is safe to protect the figurine on courier service.
Q6: Why I keep having timeout while uploading my photos? What should I do?
A: This is because the total file size of your photos is to big (>3MB) or you had a slow Internet connection that failed to upload the big file size photos into our server. You should resize the photos, we recommend photo editing freeware, Google Picasa.
Q7: What type of photos should I submit or qualified to make figurine?
A: The Qualified photo request by MineAlesi is 4 photos with difference angles (front, left, right, back) and with same expression. If you are not able to get 4 angles photo, photo Accepted by MineAlesi must be at least 1 clear front view photo with minimum 300kb, Please refer below;
B: 1st time order custom made & hand made figurine? Please "click here" to understand more our service to avoid disappointment :)

Q8: I don't have a credit card or Paypal account, how can I order MineAlesi products?
A: You can use Telegraphs Transfer (TT) or via Online Banking. Our bank account details as below, please WhatsApp or email the bank in slip to [email protected] after done:-
Bank:

Maybank Berhard




Account Name:

ALESI FIGURINE
Account No: 562683 204395
Email:

[email protected]
WhatsApp:

+60126642688
Q9: Is this MineAlesi figurine machine made or computer crafting?
A: Each MineAlesi's figurine is fully handmade by our professional sculptures. It is a piece of Art uniquely present by our designer to you.
Q10: I have tanned complexion, can I have something near to my skin colour?
A: If you need other colour of complexion other than as per displayed in this website, please write to us. You can find our contact detail here. We will soon put up various choices of complexion colour soon.
Q11: My figurine is collecting dust, how should I clean it?
A: You can carefully clean it under running water and dry it with soft cloth, it is advice to cover your lovely figurines with glass box in order to solve this problem one and last ;)
Q12: Will the color fade?
A: The color of the head part is the original color of the material, so the color won't be fade, and the body part is Painting with acrylic color, so it can be long lasting. (Recommended to display in the normal room temperature location)
Q13: Can i change the color of the shirt or shoe or add name on the base?
A: Yes, additional charge MYR20~30 per item or color (please feel free to contact us for final price)


Q14: I am interested in full body figurine of movie stars. Do you have any ready made one?
A: We can specially custom made one for your personal collection
Q15: How long is the process for full body custom made figurine and how much?
A: Estimated is 2.5-3.5 months +- and full body custom made figurine selling price is MYR488 / 12cm +- height or MYR788 / 17cm +- height. DO contact us if you need short urgently.
Q16: Will it really look alike or how many % look alike?
A: MineAlesi's caricature cartoonist figurines is uniquely handmade and custom made by our professional sculpture, they just refers from a flat photo to sculp by free hand; therefore the similarity will more on cartoonist look and aligned with the "photo given", no percentage can be provide as points or mark for the end result.The outcome of the cartoonist figurine is also very subjective with difference people. Let's view our previous done job and 'Testimony' from our value customers or figurine outcome in "Photo Gallery" for more confidents before order.

FAQ Shipping, click HERE

Contact us if your question is not listed on top. Thank you very much and wish to receive your order soon :).